Overcome from Dissertation Failure for Undergraduate
July 13, 2021
|
Felix
|
542
Can you fail a dissertation? What if failed in Undergraduate dissertation in the United Kingdom while writing your dissertation for different colleges in the UK? Under such circumstances to overcome the failed  undergraduate dissertation is the only alternative left with graduates. Students can resit the dissertation and write it again by overriding the mistakes committed earlier in the dissertation.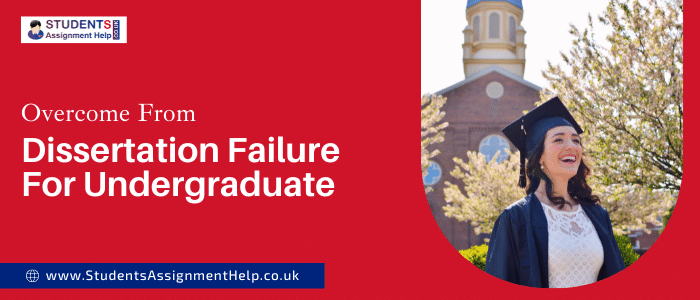 So if you want to prevent failing a dissertation then you should read a complete dissertation writing guide is given here which will help you to overcome your failure in writing a dissertation. You will be able to figure out the mistakes committed by you previously by following this dissertation writing guide. This is because one has to be very much careful and pertinent while writing the dissertation for the second time by failing it in first chance. 
What happens if you fail your undergraduate dissertation?
If a college student generally has a question that What happens if I failed my dissertation? So here is the answer
Dissertation writing is of supreme importance for college students in the United Kingdom. Those who are not able to pass their dissertation or get average dissertation marks are supposed to overcome their previous mistakes and then resit their dissertation to write it again.
Dissertation failure must be overridden by UK graduates to get a UG degree in their subject. There is only one chance which teacher gives to graduates after they fail in writing an apt dissertation for the Undergraduate course at any of United Kingdom University.
Implications of failing dissertation 
If you failed dissertation, you will usually be given an opportunity to re-submit it by an agreed-upon date.If your marks for other module elements are high enough that your averaged course mark is 40 or above, you will pass the module regardless of the single failure. You can get an opportunity for re-submitting dissertation that can be helpful for you in achieving  higher overall degree average.
Reasons of failing in dissertation by Undergraduates
We cannot give a single reason for which college students fail dissertations in the UK.
For example, failure to understand the outline of the undergraduate dissertation, inability to write discussion chapter of dissertation, poor analytical and research skills lack time, etc. are some of these reasons. 
As a result of which college students fail to write an apt dissertation. A perfect dissertation can be written only when a person is aware of every dimension of dissertation writing work from its outline to the citation of the dissertation.  Sometimes personal issues and problems can be a strong reason behind failing a dissertation writing in an Undergraduate degree for UK students. Many of the students generally fails when they are asked to write Dissertation in 3 days or finish their thesis in a week.
in the above paragraphs, we discussed dissertation failure reasons. now discuss ideas to overcome from this dissertation failure.
Tips to overcome from dissertation failure for undergraduates
1. Resit dissertation to overcome failure
If you want to override dissertation failure the most effective way to do so is to resit your dissertation. Failing in the dissertation for once is not going to be the end of your academic career as you can grab another golden opportunity to write your UG dissertation again. Resit the undergraduate dissertation and ponder on the mistakes that you have done to rewrite your dissertation again.
But make sure that you are not committing even a single mistake when writing a resisting dissertation for a UG degree. This is how you can easily overcome the dissertation failure in an undergraduate course in any of United Kingdom University. The only thing that that you need to ensure is that your dissertation is perfect when you are writing it for the second time.
2. Analyzing mistakes chapter wise to overcome failure
When college students write their dissertation for the second time it is important to look after every single mistake committed in the dissertation. Notes can be taken from professional dissertation writers to understand how to write a dissertation findings chapter, outline, thesis or hypothesis, etc. With the help of these professional notes, you can overcome mistakes in writing a seamless dissertation for undergraduate courses in the United Kingdom.
 Likewise, you can also read professional dissertations to understand the tips for creating a dissertation contents page as well. First, have an idea about how many sections a dissertation is comprised of in the UG course then start writing dissertation. That is how a good resit dissertation can be written by UK graduates to get rid of their dissertation failure. 
3. Dissertation tutors can save you from failure
When you fail in an undergraduate dissertation it is very obvious that you are not well aware of the format, structure, and way of writing a dissertation. There is only one chance to resit your dissertation in the United Kingdom once you failed in it. 
Select good dissertation supervisor for you.  Subject matter experts who have immense knowledge on the topic of the dissertation and a clear understanding of the dissertation format can be helpful to overcome dissertation failure under such a state. If you make blind guesses for the second time  then you can meet another failure in a dissertation as well. It is always good to seek help in a situation where you are not confident enough to tackle the problem. You should have discussion on dissertation with supervisor at the first meeting only.
4. Hire dissertation writers to resit your dissertation
Well if you are grabbing your last chance to submit the UG dissertation in the UK after failing in it you need to be very careful. Failing in the dissertation for the second time can ruin your academic career. As you will not be able to obtain UG degree under such a scenario. So if you are unable to figure out your mistakes are had been committed earlier just hire professional dissertation writers to write resit dissertations in UK.
The best quality dissertation can be written by those having an optimum experience in the field of academic writing. You can ask the dissertation writers to include your ideas for the dissertation also. So this is one of the most influential ways to overcome the failure in dissertation writing by taking professional help.
5. Overcome from dissertation failure by simply editing it
It is completely fine that you have gone through the improvement of every single mistake in your dissertation committed previously. But if you do not bother about editing your dissertation it can cause you troubles again to override dissertation failure. Grammatical errors, wrong citation of the dissertation. That is why undergraduate students should be very careful while writing their College dissertation.
 You can overcome your dissertation failure completely when proper dissertation editing is done before its submission. You can hire experienced dissertation editors and proofreaders for editing their dissertation as well. Without seeking professional dissertation help it is almost impossible to submit an error-free dissertation for the students of UK. 
Professional help in Undergraduate dissertation from Students Assignment Help
Students Assignment Help experts are offering the best quality dissertation writing help in the UK to those who are not able to complete their college dissertations. Dissertation writing is a very tedious process owing to the specification needed in every section. Most of the students are unable to do so and thus fail in their dissertation writing.
Students Assignment Help experts offer round the clock dissertation help to such students. If you have dissertation anxiety, you can seek professional help. Our professional will help you in writing the findings section to citation and bibliography or the complete dissertation. So place your order and avail your dissertation on time in the United Kingdom written by UK-based dissertation helpers. Instant dissertation writing help is also available for those who need emergency help in their dissertation.