CIPD Level 3 – The Foundation Certificate in People Practice
March 25, 2021
|
George Orwell
|
20164 views
Do you want a higher qualification as an HR? Or Are you looking for a course that can help to start your career in HR? CIPD level 3 foundation certificate in people practice is a great way to start for a newbie to gain recognition as an HR since CIPD covers both L&D and HR at the foundation level. The CIPD people practice course at level 3 is available for all the individuals in the Human Resource department to own this opportunity and work as a professional HR in a company.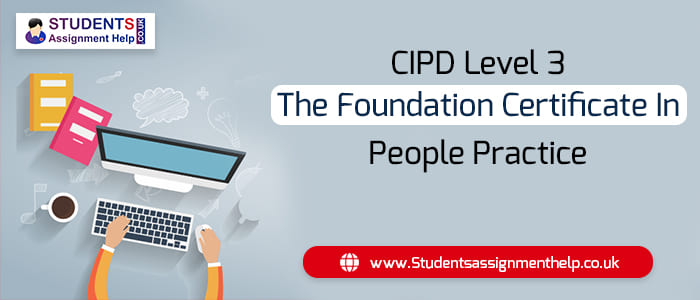 Often companies and organizations are on a day-to-day lookout for a competent HR who can help in building strategies to make the company successful. An HR can help a company to increase a high reputation among its competitors. In the favor of employees, companies always push qualified HR to help them with company policies that can be accepted by their employees. So, whether you are on your path to becoming an HR proficient or want to further help other individuals with the same passion of becoming an HR, the Level 3 CIPD course is the best fit for you.
The level 3 certificate of CIPD helps you gain knowledge and skills in Human Resource (HR) sector with Learning and Development practice if you are currently working as a new HR or in a supporting role with HR. As a people professional, you will be acquired by the huge knowledge of the people practices under this course. Thus, a Level 3 certificate of CIPD not only helps you achieve a high confidence level as an HR beginner but also opens doors for the higher levels of the CIPD levels in HR or L&D.
Who can apply for a CIPD Level 3 certificate?
The CIPD Level 3 helps individuals to get a certificate in HR and L&D and allows them to make a strong foundation for higher Level 5 and Level 7 CIPD courses. The CIPD Level 3 Foundation Certificate course in People Practices can be studied by those students include:
Start a career in Human Resources and Development and want to gain knowledge and skills to become a people professional.
Students without any previous qualifications or experience can also enroll in this beginner-level CIPD course.
Any national or international student can apply for this course either through online tutors or in the face to face teaching.
If you are new to the HR role or working as an individual in an HR support role and don't have the required skills and knowledge then you can pursue a third-level HR certificate course.
An HR professional who wants to learn the fundamental skills in HR and L&D.
In this course, you will get a better understanding of responsibilities assigned with an HR, Learning and development executive, or organizational development administrator. So, before you apply for any of the CIPD course via online or face to face, remember the points mentioned above and question to yourself why to want to start to this course.
Job Roles after getting the CIPD Foundation Certificate         
There are many roles that an HR or L&D course aspirant can be fit into. Some of them are:
HR Assistant
HR Officer
Trainer
HR Coordinator
L&D Assistant
HR Administrator
Training/L&D Coordinator
Training/L&D Officer
L&D Practitioner
The New 2021 CIPD Level 3 Certification in People Practice
CIPD has done some changes in the Level 3 foundational course in January 2021. A new CIPD foundation course will take around 6-8 months of completion. The change in the number of modules or subjects, number of qualification and size of the qualification are some of the recognized changes that have shown in the new framework of the Level 3 CIPD certificate course.
Overview of Pre 2021 foundation certificate    
Number of possible qualification – Six
Awards or certificates were available in both HR and L&D practice.
Outcome of Associate Membership
Claim Your 15% OFF Now Submit Assignment Details
Overview of new CIPD Level 3 foundation certificate   
Only one certificate is required to complete a foundation qualification.
Single Award or certificate of foundation in people practice incorporates both HR and L&D.
Outcome of Foundation Membership
Now, let's see the difference between the syllables in the modules of the new CIPD Level 3 foundation certificate course and pre 2021 CIPD foundation qualification modules include:
Content of old Pre 2021 level 3 qualification
Developing Yourself as an Effective HR Practitioner (4DEP)
Understanding Organisations and the Role of HR (3HRC)
Recording, Analysing, and Using HR Information (3RAI)
Resourcing Talent (3RTO)
Supporting Good Practice in Managing the Employment Relationship (3MER)
Supporting Good Practice in Performance and Reward Management (3PRM)
Contributing to the process of Job Analysis (3CJA)
Supporting Change in Organisations (3SCO)
Identifying Learning and Development Needs (3LDN)
Designing Learning and Development Activities (3DES)
Delivering Learning and Development Activities (3DEL)
Evaluating Learning and Development Activities (3ELD)
Supporting Individual Learning through Coaching and Mentoring (3LCM)
Content in new 2021 level 3 qualification
Essentials of People Practice
Core Behaviours for People Professionals
Business, Culture, and Change in Context
Principles of Analytics
Get Special Discount Offers for Assignment Help
Conclusion
Level 3 CIPD qualification is a beginner level course in human recourse and L&D for students who want to become a professional in this field of education. CIPD helps to gather skills and knowledge to ensure the growth of an HR beginner by providing a certificate at Foundation Level 3 so that they can make a positive change at the workplace. With the new profession map of CIPD, the Level 3 certificate is for gaining foundation or basic skills to people professionals in order to improve their capabilities, decision making, and confidence for the different roles of the HR as mentioned above. So, if you are thinking about getting qualified for the Level 3 HR and L&D course, it is time for you to make the first step towards a successful HR professional.
Get Assignment Help in CIPD Level 3 People Practice Foundation Course
studentsassignmenthelp.co.uk is the most recognized company in the UK for all types of assignments in different subjects of Level 3 CIPD foundation qualification. We have experienced writers to help with assignment writing in the top quality and assure you of plagiarism and error-free writing.
Our native writers have in-depth knowledge of varieties of topics and questions so that no student would leave without getting help from us. We follow and understand the importance of tight deadlines and fast delivery for essay writing with no plagiarism. Therefore, we not only offer CIPD students free revision and proofreading services after assignment making but also consider their requirements in a particular way of assignment writing.
We offer CIPD assignment help to scholars at affordable prices. So, if you need an assignment helper from UK, you can contact us anytime. We are ready to available for helping CIPD individuals with our 24/7 customer support.