How To Write a Thesis Statement
July 14, 2021
|
Felix
|
480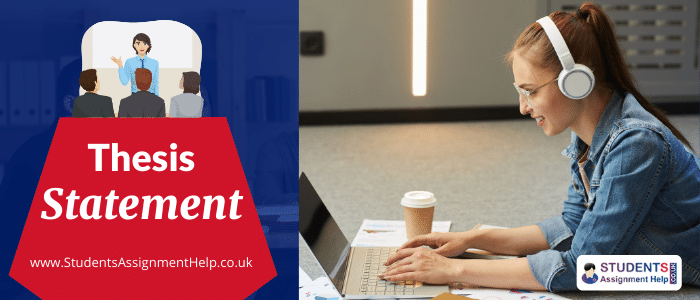 A thesis statement is basically a single statement in the dissertation that mainly emphasizes on the main idea of a writing research paper. The thesis statements in the dissertation provide the reader with ease in identification of the topic or issue on which discussion has been done.
Why is the thesis statement Important?
Whether you are publishing a research work or writing a strictly scientific essay, your paper should be entirely based on the proposed thesis statement.  Specific Statement has great importance as :
It informs the audience how you are going to interpret the importance of the topic that is in consideration.
Through this, readers get to know what they should expect from the remainder part of the article. In short, it acts as a guide map for your research paper.
It responds directly to your question. A thesis is not about the subject itself, but an interpretation of the topic or a question.
Now before developing understanding about how to write a strong thesis statement, let's gain knowledge about 3 main parts of the thesis statement.
3 main parts of the thesis statement
The thesis statement consists of such words or sentences which demonstrate the subject knowledge of the writer. It is very much essential for you to select a subject which meets your instructor requirements for the assignment. You should also select such a subject about which you already have some knowledge. If you have any kind of confusion related to the subject then you should get clear by communicating with your professor.
Answers to research questions:-
The thesis statement also consists of answers to questions related to the specific subject. A proper unique option is very much crucial in the thesis statement. Here unique option means a solution to specific issue about which you are discussing in your research paper. It will help the reader in developing understanding about the main objective of the research paper.
Inclusion of the main idea in the thesis statement is very much essential. If you will not include the main idea in your thesis statement than the reader will not able to address the topic or issue you are talking about in your research paper.
How to Write Thesis Statement: Step By Step
The 6 steps you need to follow for writing the strong thesis statement for research paper or dissertation are:
Step 1: Selection of topic
At the primary step of developing a thesis, you need to first select the topic.  It is very much important for you to make the choice of a broad topic. After the selection of a topic, you need to decide on a narrow subject within your topic.
Step 2: Find supporting evidence
It is a step where you need to perform research for gathering information related to the topic. By performing research, you need to find supporting evidence for the thesis statements.
Step 3: Explore the resources
This is a step where you need to determine the resources which you require for developing a thesis.
Step 4:  Prepare a structure
Now, you need to prepare the structure of the dissertation or research paper. You should include all the important points in the structure of the research paper. It is the tactic that will provide you with ease in designing a good thesis statement.
Step 5:  Write an introduction
As thesis statements come after introduction therefore you should start writing the introduction first. After that, at the end of the dissertation, you need to include your thesis statement.
Step 6: Revise and rewrite the thesis statement
It is the last step, where you need to revise the thesis statement and match it with your research questions and objectives.
Thesis statement examples
One important feature of a good thesis statement is that it is very much specific. There is no general words are used. Here we are showing some thesis statement examples for you.
Informative thesis statement examples
"To cook a pizza in the morning, an individual will have to get up arrange necessary ingredients on the basis of personal preferences, get a knife, and spread the condiments."
Argumentative thesis statement examples
According to a few people, social networking is a boon, when utilized with a clear objective can yield a better outcome. Social media has made communication procedures faster and easier.  Now connecting with people living far away has become a no more difficult task. Thus, it becomes a boon when you are actually using it for the purpose. So, why not to take an initiative for making it more effective, rather than pondering more on the detrimental effects of its addiction?
Thesis example 1st :
Incorrect thesis statement: the UK is a good destination for spending the summer holidays. The above statement is not specific.

As there is no justification or reason which proves that the UK is a good country to travel and spend summer vacations. You, in order to improve the above statement, are required to concentrate on particular areas of the UK and you need to identify strong evidence for proving your statement.

Correct thesis statement: the UK is a good destination for spending  vacations as it consists of a beautiful landscape where you can spend quality time with your family.

The above statement is specific as it contains the reason that could influence an individual to spend their vacations in the UK.
Thesis example 2nd:
Bad thesis statement: Everyone should exercise daily in the morning.

The above thesis statement is not at all specific as it does not provide the reason for the exercise that an individual should perform every day in the morning.

Good thesis statement: Every person should do exercise or yoga in the morning because it will help you in becoming fit.

The above thesis statement is specific as there is proper justification for the suggestion,
3rd example of a thesis statement :
Incorrect thesis statement: Consumption of alcohol in large quantities is not good. The above statement is not correct as  it is not specific. There is no reason or evidence which proves that alcohol is not good.

Correct thesis statement: Consumption of alcohol is not good for health as it might have an adverse effect on the heart.
Thesis statement example 4th:
Incorrect thesis statement: Reading activity can have a positive influence on the development of an analytical mind in children. The above thesis statement does not consist of the proper specifications.

Correct thesis statement: Reading activity has a positive influence on the analytical mind of children as it helps them in improving their vocabulary and enables them to develop comprehensive skills.

The above thesis statement is specific, as all the advantages of reading activity have been clearly stated.
Get Custom Thesis Statement Writing Help
This article may help you in developing an understanding of How to write a thesis. But still, you are facing issues in developing strong thesis statements, then you can seek assistance from our professional. You can also buy a template from an expert team of student's assignment help. We provide students with all types of high-quality academic writing assistance and explained examples at a reasonable price.