Dissertation Printing and Binding – Types, printing option and other Tips
July 14, 2021
|
Felix
|
402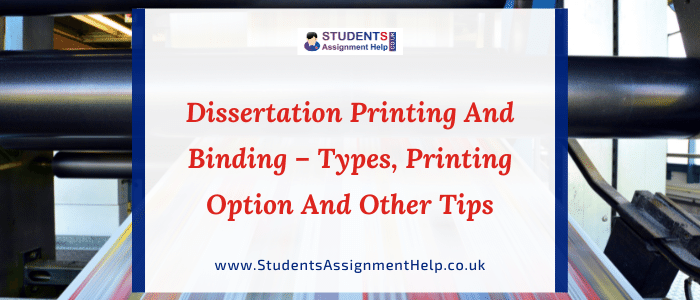 Overview of the dissertation printing and binding
After the successful completion of the dissertation, checking, etc. after that last phase is to get your dissertation printing and binding. Before getting the dissertation print, you are required to make different choices.
You have to make choices related to:

Types of binding
Color
Single/ double-sided
Type and thickness of the paper.
Dissertation binding and printing options
You will not able to bind the dissertation yourself. You for getting your dissertation bind you need to avail Dissertation Printing & Dissertation Binding Service. There are number of binding options from which you can select one for your dissertation. 
  The different types of dissertation binding options available are:
Spiral binding: It is considered to be one of the strong types of binding. You can use such type of binding when you want to make your dissertation look more professional. There are basically three color options available in spiral binding these are silver, white and black.  In addition to you can choose the front and back cover of transparent plastic.
         The key features of spiral binding are :

It is less expensive
Opening the Pages is much easier. It can be opened flat.
The dissertation looks more professional
Comb binding: It is basically a substitute for spiral binding. You can easily add or remove pages. You can utilize this type of binding option when you are submitting the draft of the dissertation.
Fastback binding:  the pages are joined by linen back and a thick layer of special glue. It is cheaper and such type of binding will enable you to make your dissertation look more professional.
Paperback binding: It is generally utilized for binding real books; all the pages in books or dissertations are sewed together. The flexible cover will help you in protecting your dissertation.
Hardback binding: It is somewhat the same as paper binding. The back and front cover of a dissertation is hard.  This type of binding option is generally used by Ph.D. students for binding their dissertation.
While making the selection of binding also, it is very much important for you to consider the guidelines. In addition to this, while making decision-related to the type of binding, you should also think that whether you are submitting the drafty or final dissertation. Before making the decision related to binding you should develop the understanding that binding is the factor that will help you in developing a good impression on a supervisor.
Different types of Dissertation printing options
The different types of printing options are:
Type 1.Color versus black and white: On the basis of the guidelines provided by professors at university you can decide the color of your dissertation. Color printing is quite costlier. You can have color printing of your dissertation if you want to make it look more professional. Another option is that you can get the colored print for those pages which consist of diagrams, graphs or charts.
Now you may have question should dissertations be printed double sided? below  is the answer of your question.
Type 2.Single versus double-sided: Printing single side can be costlier as compared to the double side. Printing a single side can make your dissertation look thicker. Before making the decision whether you should get dissertation print on a single or double side, you need to consider the guidelines provided by the professor.
In relation to getting the dissertation printed on double side you need to concentrate on the following:
During the time of printing your dissertation, you need to make sure that each chapter or section of Dissertation starts from new page. In addition to this, you should insert blank pages while making dissertation.
Before printing the dissertation you are required to insert blank pages after the table of contents so that abstract and acknowledgment could be printed on the first page only.
Before getting your dissertation printed you need to do proper formatting of your dissertation. For instance, by selecting the outside alignment you can make sure that page numbers are aligned at the bottom right and pager numbers are there on the left side.
Type and thickness of paper
Consideration of the thickness of the paper is also very crucial as it has a significant influence on the presentation of the dissertation. You need to measure the thickness of the paper in grams. If you prepared the dissertation for your bachelors or masters, then the thickness of the paper for printing the dissertation should be around 75 to 90 gsm. You, in order to present your dissertation in more professional, need to select the paper size 100-130 gsm. It is the paper size which students generally use for presenting the dissertation by a student pursuing a Ph.D.
How long does it take to bind a dissertation?
The time consume in binding  is completely  dependent on the length of dissertation.  You can get your dissertation print in minimum one hour. Lengthy phd dissertation takes 2-3 hours to bind.
Other tips
There are some tips that you should follow before getting the print out of your dissertation.
The first tip, before giving the dissertation for printing you should review it once. You should make sure that all the topics are there and dissertation is organize in a proper manner.
Before giving the dissertation for printing, you should proofread your entire content, as this will help you in addressing the spelling or grammar mistakes that could adversely affect the quality of your work.
Before availing Dissertation Printing & Dissertation Binding Service you should keep a soft copy of your dissertation before sending it for printing. In addition to this, you should save your dissertation in PDF as it will help in preventing the threat of losing data in any case. Before saving your content in PDF format you need to do updating of a table of content. In addition to this, you should also cross-check the page numbers in the table of contents.
You should get the five copies of your dissertation print. While making the decision about the number of copies of the dissertation to print you should consider the guidelines or instruction of your tutor.