How to Make a Perfect Dissertation Plan
July 7, 2021
|
Felix
|
224
This blog discusses the steps that are involved in making a perfect dissertation plan. For undergraduate students dissertation is a familiar term. The students are required to complete work on the dissertation for academic reasons. They are awarded grades and certifications based on their respective academic performances.
To those individuals who do not know what a dissertation is, a dissertation is a large piece of writing that often has to be well-researched. While penning down a dissertation it is important to analyze the data, provide an extensive bibliography at the end of the write-up. Planning to write a dissertation is important.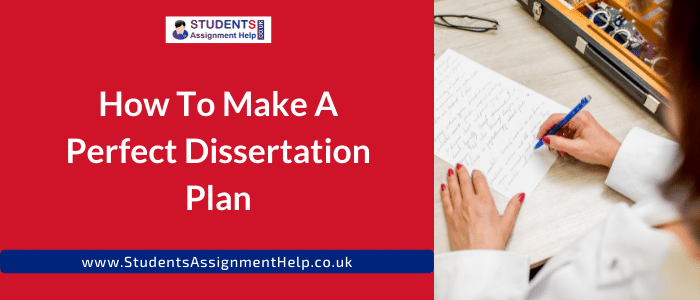 This blog provides the readers an insight into the planning of a perfect dissertation. It discusses the initial phases of writing a dissertation and also discusses the final stages of proofreading. This blog features some of the important tips and tricks to become a successful dissertation writer and it also discusses the common mistakes that one needs to avoid while writing a dissertation.
Why write a dissertation?
Students are made to write dissertations to convince the teachers, professors that they are smart researchers. To be a competent dissertation writer the students are required to display proficiency in various phases of dissertation writing. As part of the dissertation writing plan, the writers are required to follow the dissertation life cycle.
Buy Non Plagiarized & Properly Structured Assignment Solution
Manage time and stay organized
The dissertation writer needs to be a good time manager. The person is required to stay organized while authoring a dissertation. The dissertation writer requires adopting two time management strategies and they include micro time management and macro time management.
Besides, exhibiting quality time management skills the dissertation writer is required to display organizational skills. The dissertation writer might have to organize meet-ups with the supervisor before starting with the dissertation writing process. It is all the more important for the dissertation writer to refer to the resources that are available online or in the library and make sure that the time is efficiently and effectively used for writing dissertations.
You can put to use your skills while writing a dissertation. These skills may incorporate listening skills, social skills. Listening skills are useful while you interact with the supervisors. While working on dissertations you need to comprehend what is required out of you.
You must also consider the feedbacks that your client gives to you after you have done with the writing of dissertations. Apart from the listening skills, you must be able to communicate with others, particularly concerning writing dissertations. You require using proper strategies while communicating via emails or orally.
cta_sample_2
Skills that you need to become a dissertation writer
If you aspire to become a good dissertation writer then you need to have the following skills:-
Self-motivation
Time management
Self-discipline
Organizational
Self Confidence
Presentation
Listening
Technical
Social
Independent learner
How to do meetings with the supervisor?
To write dissertations efficiently you must conduct meetings with the supervisors. The dissertation writers can often obtain inspirations or ideas for writing on such meetings. Supervisors often help the dissertation writers to start writing and they help the writers with the title or topic. If required communicate with the supervisors using emails.
Capitalize on the meetings
As a dissertation writer, you must organize meet-ups with the supervisors. You require capitalizing on the meetings. You require to view the meet-ups as opportunities so that you can gauge your supervisor's opinion about your work. The meetings also help you to understand whether any corrections are required in your dissertation write-up or not. You the dissertation writer need to build a rapport with the supervisor.
Things to avoid
There are a few things that you must avoid to be a good dissertation writer. You need to attend the meeting with your supervisor. However, if you are unable to attend a meeting then make sure that you send an email to the supervisor about the same. As you are writing a dissertation therefore you must do adequate research on the topic. If required you should refer to resources available online to do researches.
Where to search for resources?
Searching for resources pertinent to a dissertation is not that difficult. There are websites like scholar.google.com that can be of immense help in writing dissertation content. This website is also useful to create a reference list, do citations in various academic projects including dissertations.
An important part of the dissertation is the literature review and while writing it special care is required. The next thing is to organize your research and notes. Most dissertation writers prefer using the APA referencing style while writing dissertations.
Research Strategy and Research instruments
The dissertation writers are required to do primary research. They are required to complete the dissertation work within constraints of time. Research instruments like questionnaires and interviews are used by the dissertation writers while writing quality dissertations. As a dissertation writer, it is recommended that you plan for the interviews.
Proofread and edit
Finally, the dissertation writer needs to proofread and edit the write-up. In this manner, if there are any issues with the write-up can be corrected. During this phase, you can very well get rid of the irrelevant information that is there in the dissertation.
Avail quality dissertation writing help from experts of studentsassignmenthelp.co.uk
Hope you have completely understood that how to write a dissertation.
UK students often require assignment writing help from top assignment writing services in UK. If you need unique and error-free assignment writing help then visit the website of studentsassignmenthelp.co.uk.
You can request the assignment writers associated with studentsassignmenthelp.co.uk to write my dissertation or edit my dissertation. You can also use the website of studentsassignmenthelp.co.uk and hire a Ph.D. dissertation helper and avail of quality thesis help and assignment help UK.
You can also avail the professional services of the premium dissertation writers of studentsassignmenthelp.co.uk and do literature- reviews for me. Therefore, if you need assignment writing services, dissertation writing services, our blog writing services then contact us with no delays.
Please Write Fresh Non Plagiarized Assignment on this Topic